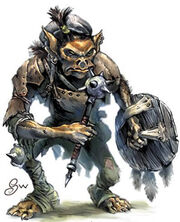 One of the weakest, but most numerous creatures in any D&D world, the goblin is one of the most iconic of the savage humanoids.
Goblins are small humanoid monsters. They vary in height from about 3 to 3 ½ feet (91 - 106 cm) and weigh 40 to 45 pounds (21 – 24 kg). They walk upright even though their arms nearly reach their knees. Their eyes vary from red to yellow and are usually dull and glazed. They have a broad nose that sits on a flat face with pointed ears and a wide mouth. Their mouth contains small, but sharp fangs. Their skin pigment ranges from a deep red through nearly any shade of orange to yellow. Members of the same tribe tend to have the same skin color.
Goblins and dwarves are said to have a particularly heated rivalry, stretching back generations.
Goblins made an appearance in the Chainmail rules, and later appeared in the original White Box Set for OD&D. They had Light Sensitivity
Community content is available under
CC-BY-SA
unless otherwise noted.